The "Check Engine light" is supposed to inform you when there is an issue involving your engine. While it can be helpful when there is a real concern, most "Check Engine" problems are minor. But minor issues still can cause you to fail emissions. So here's how you reset it.
We've all groaned when that check engine light turns on. You were probably on a nice drive on a beautiful day in your trusty automobile when you suddenly noticed that eyesore light up on your dashboard.
Few lights are connected to as many potential issues in your car. So that light will alert you of critical issues that need taking care of. But it can also illuminate a minor problem that creates more headaches than its worth.
Now let's take a look at what issues your Check Engine Light is alerting you to and how to reset it if it's a minor problem.
What Does My Check Engine Light Mean?
The "Check Engine" light turns on when the On-Board Diagnostic (OBD) system in your car detects a problem affecting emission controls or one of the engine's many sensors.
The OBD makes many corrections on its own for things like your engine speed, fuel mixture, air to fuel ratio, and ignition timing.
But when the OBD cannot correct on its own, it posts a warning light. The Check Engine light is one of these warning lights.
Why Is My Check Engine Light On?
The light alerts you to possible issues that include (but are not limited to) an unfastened gas cap, poor airflow (problems with your fuel mixture), awful oxygen sensor, engine misfires, a broken temperature sensor, deteriorating spark plugs, or an incorrect catalytic converter.
You can fix some of these issues with little to no money spent (such as the loose gas cap). But other items (such as a bad catalytic converter) cause significant damage and will cost a lot to fix.
What Does It Mean When Your Check Engine Light Flashes On And Off?
The problems that the check engine light represents vary. Some minor issues keep the check engine light on as a stable picture.
But if the light starts flashing off and on, that means a significant issue with your engine that needs immediate attention has occurred. A severe engine misfire may be dumping unburned fuel into your exhaust system.
The unburned fuel could raise the temperature of your engine, damage your catalytic converter, or set your car on fire. So do not mess around at all with a flashing check engine light. Take your vehicle to a mechanic immediately.
My Light Isn't Flashing. Do I Still Need to Take Care of It?
Yes, though the situation is far less dire than it is with the flashing light.
Now if the light is on but not flashing, then don't panic. Whatever the issue is, you don't need to jump out of your car before it blows up right at that moment.
But that doesn't mean you need to ignore the light. Many problems that the light alerts need to be either fixed by a professional or by you.
How Do You Reset A Check Engine Light?
Once the problem is fixed, your check engine light should turn off. But some check engines lights get stuck and stay stubborn. They won't turn off even if you have the problem taken care of.
And sometimes, your sensor produces code.
The computer in your car takes the blame for both of these problems. So here are a few options for resetting it, so the check engine light goes away.
1. Use A Scan Tool
A scan tool resets check engine lights better than most any other method. To do this, you should first connect the scan tool to your OBD system. Make sure all gadgets are turned off before you start.
Next, press the "Read" button on your scan tool. Be sure you have a pen or pencil so you can write down the codes that appear. While this exercise should reset your check engine light, there may still be a code listed that needs your attention in the future.
Then, after you've turned on the ignition, press the "Erase" button (though your tool may have a "Clear" or a "Yes" button instead) to remove the error code.
If the issue behind the code you've erased has been taken care off, then your check engine light will turn off.
2. Disconnect Your Battery
Engines can reset from a simple battery disconnect, though the process is not as simple as just removing the positive and negative cables.
First, remove the positive and negative cables (bet you didn't see that first step coming).
Next, hold down your car horn for 30 seconds to drain any remaining electricity from your car capacitor.
Then, wait about 15 minutes before you re-install the battery.
Much like using a scan tool, the light will turn off if the problem has been fixed. Keep in mind this method may not work on all cars.
3. Turn the Ignition On an Off
This method works the same as the previous method without disconnecting the battery.
Reset the system by putting the key into the ignition and turning it on and off three times. Make sure there is about a one-second gap between each ignition.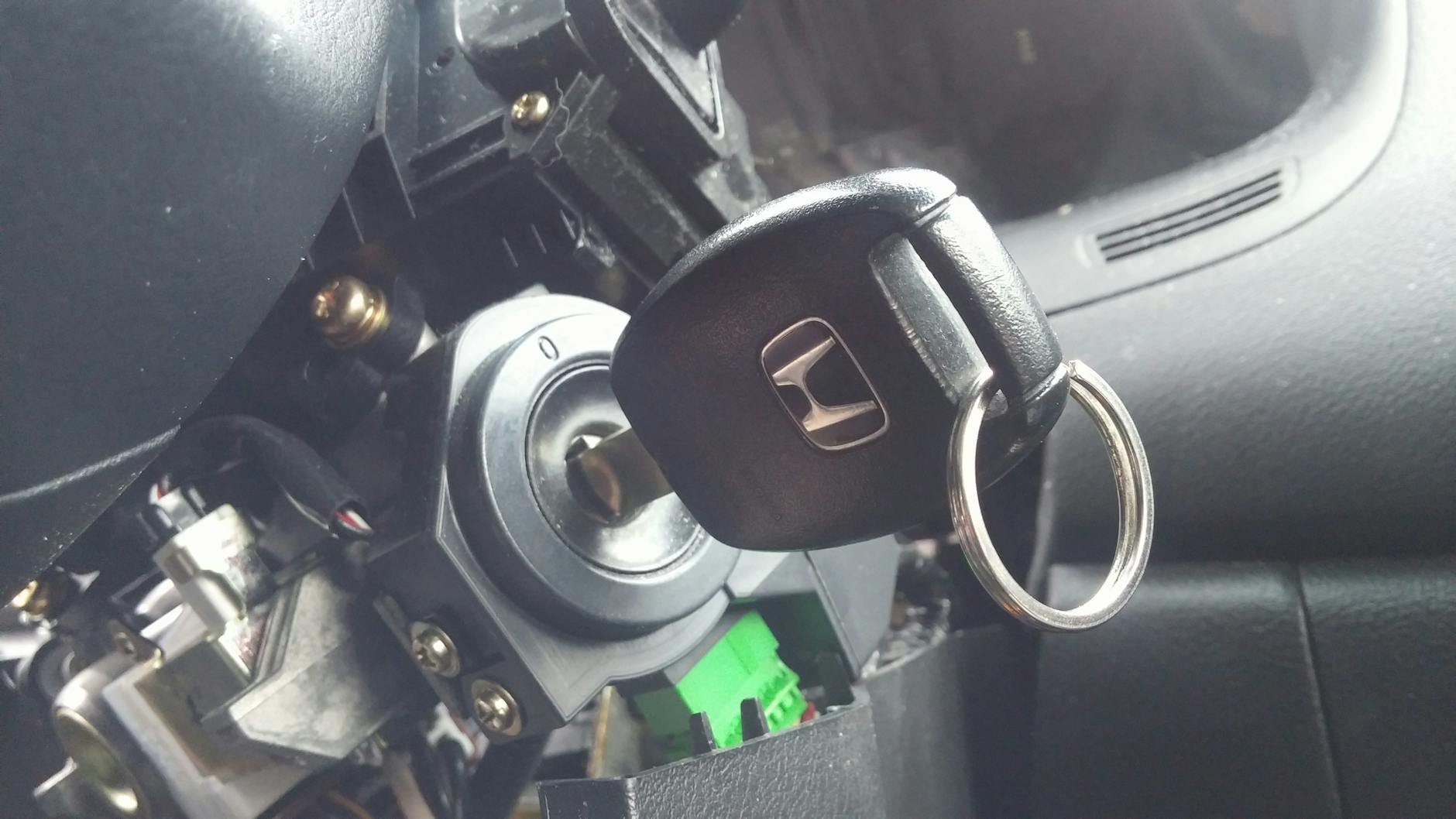 After you've turned the car on and off three times, drive around to see if the light is reset. It may be off initially only to turn back on later. It may also turn off as you are driving.
4. Let the Check Engine Light Go Off By Itself
Fixing the problem doesn't always mean the check engine light will turn off right away. Sometimes, your car needs to go through a cycle to clear it.
So if that's the case, the light may turn off by itself.
Your car's OBD system is constantly rechecking itself. So if the problem causing the check engine light has been fixed, your OBD system will detect it during the first check after you or someone else has addressed the issue.
Once the OBD detects this, the light should turn off on its own.
FAQs about Check Engine Light
1. Is it safe to drive your car with the check engine light on?
It depends on the issue. Minor problems (like an oxygen sensor problem) won't cause your car to breakdown. They might hurt your gas mileage or cause you to fail emissions testing, but you can safely drive your vehicle around town.
Now, more significant issues (like a catalytic converter) need to be addressed as soon as possible. Assume your car is unsafe to drive if you've got a larger problem and get it to a mechanic promptly.
And if the light is flashing (as mentioned early), your car is not safe to drive. Take it to a mechanic as soon as possible.
2. Can the check engine light turn itself off?
It can.
Your OBD system is continuously monitoring the functions of your engine. And that means it continually checks and rechecks itself regularly. So if a problem has been taken care of, then the OBD system will turn the light off.
3. Will your light turn off by itself even if you've done nothing to fix the issue that turned on?
No, it will not.
For the light to turn off, you must address the problem making the light turn on. This can be as simple as tightening your gas cap or replacing a bad sensor. But whatever the issue, you must address it, or the light will stay on.
You can also do a reset to see if your OBD system was sending you a wrong code. But once again, that requires one of the methods mentioned previously. The light won't just turn off without taking steps to address it.
4. How many miles do you have to drive to clear a check engine light?
Drive 50 to 100 miles over multiple trips to get a full reset. This will also get your system to "READY" status, an important message you need to receive before you can pass emissions testing.
5. Can you pass emissions with check engine light on?
In most cases, no.
It's not unheard of for someone to go in with the light on and pass. But assume you will fail emissions if that light is on.
6. Is There Any Chance I Fail Emission Once the System Resets?
There is.
Once you've cleared your code and run your system reset, you must drive the car 50 to 100 miles. This allows your car's OBD system to check all the components of your engine to ensure the problem has been addressed.
If you bring your car into an emissions testing center and you have not driven enough miles, the emissions testers will detect that your system as "Not Ready." Systems that are "Not Ready" will fail emissions.
Once you drive the right amount of miles, your system's status will update to "Ready." If the system updates to "Ready" and the check engine light stays off after the reset, you should be good to go for emissions.