OBD1 versus OBD2, what are the difference between them and how can you tell which one your car has? OBD, or On-Board Diagnostics, is how your car monitors your engine and other systems for any malfunctions or abnormalities. This post will show you an overview of OBD1 vs OBD2 interpretation.
OBD is what tells you to check your engine or that your oil level is low. It gives you different error codes for each problem. Although both OBD1 and OBD2 monitor your car, there are some significant differences between the two.
And it's important to know these differences to be able to know what type of scanner you need to use to read your cars OBD. Let's explore more of what OBD is and what the difference is between these two models. 
OBD vs OBD2: The Basics
OBD came about in the early 1980s as a result of the need for a way to regulate car emissions and the mass adoption of fuel injection in cars. Electronic fuel injection required computers to control the systems, so automakers introduced computer interfaces into their vehicles as OBD systems.
Carmakers were able to create any computer system they wanted, so OBD wasn't standardized from car to car. It wasn't until standards were introduced in 1994 and implemented for the 1996 model year that older OBD systems were retroactively named OBD1.
OBD1 and OBD2 are different types of diagnostic systems. They mostly do the same thing but the way they relay information about your car is slightly different, and they have different interfaces.
The OBD system was initially designed to turn on malfunction lights in cars. OBD2 was later developed as a more standardized system across all vehicles to help determine more specific problems making diagnosing issues easier.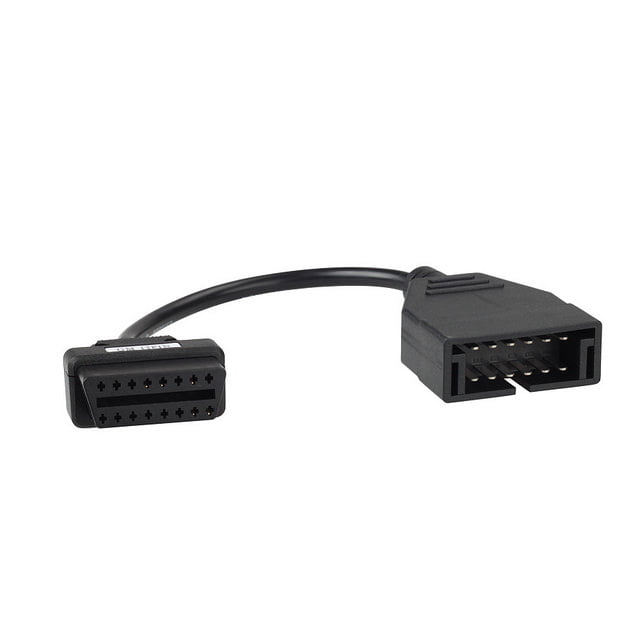 1. OBD: What is it?
OBD is the on-board-diagnostic system meaning that it monitors different systems within your car. For example, if something is wrong with the engine, the OBD will recognize it and warn you about it.
2. OBD1: California Standard
When did OBD1 start?
OBD1 was the California Standard and required manufacturers to monitor a few of the emission control components on cars. All vehicles in California needed OBD1 starting in 1991.
Although it was required in California starting in 1991, some car models implemented it as early as the 1980s. For example, GM, Ford, and Toyota vehicles from the 1989 model year have OBD1.
However, OBD1 only monitored some functions and didn't offer a full diagnosis. That's when things changed.
3. OBD2: Federal Universal Standard
OBD2 was created to overcome the shortcomings of OBD1 and make it more uniform from one vehicle to another. After 1994, the United States Environmental Protection Agency required OBD2 to be used in all cars, not just in California.
This was implemented starting in the 1996 model year. OBD2 is universal, as the interface is the same for every car whereas OBD1 interfaces differed from car to car. This made it easier to read and diagnose error codes in all OBD2 vehicles.
Does My Car Have an OBD1 or OBD2?
You can tell if your car is OBD1 or OBD2 most often by determining what year it was released. If the vehicle was manufactured before the model year 1996, it is OBD1. And if it was released during or after the 1996 model year, it's OBD2.
You can also tell by looking at the interface; the OBD2 standard interface is 16-pin. Your car should also indicate what OBD it is in the owner's manual.
You also should have a list of standard codes and what they mean, or at the very least, be able to look them up online.
OBD1 to OBD2: Outstanding Development of Automobile Technology
The primary goal of OBD1 was to be able to detect malfunctions in the emission control of a vehicle. This is important because fuel emissions can be dangerous and harmful to our environment. OBD1 was an attempt to keep car emissions as clean as possible.
OBD1 to OBD2 Adapter was more efficient at monitoring the emissions and potential malfunctions of cars. This ensures that the vehicle remains as clean as possible for their entire lifetime.
OBD2 also made it easier for users to diagnose and understand malfunctions in their vehicles. This allows users to find and correct issues in their cars quicker.
This OBD2 movement placed an emphasis on keeping our cars and environment safe and clean. This is an essential part of car technology in the US that is helping us to better preserve our environment and our vehicles.
OBD1 vs OBD2 Scanner – A Complete Comparison Chart
The chart below demonstrates all of the differences between OBD1 and OBD2.
| | | |
| --- | --- | --- |
| | OBD1 | OBD2 |
| Car Supported | Made Before 1996 | Manufactured from 1996 |
| Interface | Manufacturer-specific | Universal 16-pin interface |
| Accuracy | Low (messages are not detailed) | Good (specific codes for each problem) |
| Popularity | Low | High |
| Function | Read error messages and run diagnostics on the cars main systems | Read error messages and run diagnostics on the cars main systems |
| Applied | California | Federal |
| Standardized | No | Yes |
OOBD2 vs OBD1: Explanation of Key Differences
The first significant difference between OBD1 and OBD2 is the standardized interface. OBD1 interfaces are different from car to car because manufacturers had complete control over how the design. OBD2 interfaces are all the same.
Another big difference is how accurate each system is. OBD1 only provides general information codes to indicate what is malfunctioning in the car.
This information, such as "check engine light," is not as specific and doesn't directly indicate what the problem is. OBD2 uses specific codes to show what the exact issue is with the car.
Additionally, the amount of information monitored by OBD1 vs OBD2 is different. OBD1 only monitored specific fuel emissions and energy consumption systems. OBD2 includes many more systems so that it can accurately monitor the entire vehicle.
A video about OBD2 Explained:
Should I buy an OBD1 or OBD2 Scanner?
It should match your car's OBD type!
The type of OBD scanner you should get will depend entirely on your car. You'll need to use an OBD scanner that matches the OBD system of your vehicle. Because OBD1 and OBD2 are very different, OBD1 scanners will not work on OBD2 and vice versa.
If you have a car manufactured before the model year 1996, then it is OBD1, and you'll need an OBD1 scanner. If you have a car made after that, an OBD2 scanner will work for you. So once you are sure what you're looking for, it's easy to know which OBD scanner is right for your vehicle.
Read more: